Send Inquiry
Handmade Woollen Carpets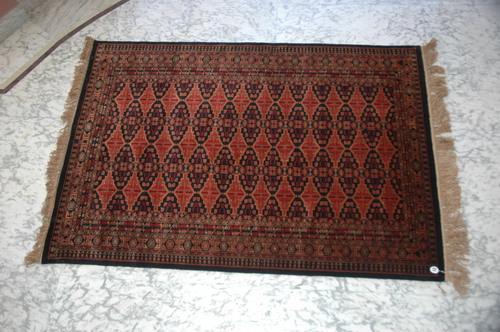 Handmade Woollen Carpets
Handmade Woollen Carpets:
Production of knotted pile carpet :-
Both flat and pile carpets are woven on a loom. Both vertical and horizontal looms have been used in the production of carpets in some colors.
The warp threads are set up on the frame of the loom before weaving begins. A number of weavers may work together on the same carpet. A row of knots is completed and cut. The knots are secured with (usually one to four) rows of weft.
There are several styles of knotting, but the two main types of knot are the symmetrical (also called Turkish or Ghiordes) and asymmetrical (also called Persian or Senna).
Knotted

:-
On a knotted pile carpet (formally, a supplementary weft cut-loop pile carpet), the structural weft threads alternate with a supplementary weft that rises at right angles to the surface of the weave. This supplementary weft is attached to the warp by one of three knot types (see below), such as shag which was popular in the 1970s, to form the pile or nap of the carpet. Knotting by hand is most prevalent in Oriental rugs and carpets.
Wool and wool-blends

:-
Wool has excellent durability, can be dyed easily and is fairly abundant. When blended with synthetic fibres such as nylon the durability of wool is increased. Blended wool yarns are extensively used in production of modern carpet, with the most common blend being 90% wool to 10% synthetic fibre, giving rise to the term "90/10". Wool is relatively expensive and consequently a small portion of the market.
Using the best raw material [australian wool ] and contemporary processes, Century Plaza's strong work force has infused a virtual renaissance into a century's old art.