Send Inquiry
Handmade Persian Carpet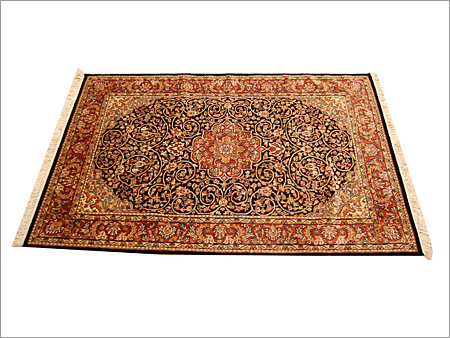 Handmade Persian Carpet
Handmade Persian Carpet:-
Give your place luxury, style and appeal at the same time with these handmade Persian carpets. Exhibit your aesthetic sense by placing these carpets in your interior.
Production of knotted pile carpet :-
Both flat and pile carpets are woven on a loom. Both vertical and horizontal looms have been used in the production of carpets in some colors.
The warp threads are set up on the frame of the loom before weaving begins. A number of weavers may work together on the same carpet. A row of knots is completed and cut. The knots are secured with (usually one to four) rows of weft.
There are several styles of knotting, but the two main types of knot are the symmetrical (also called Turkish or Ghiordes) and asymmetrical (also called Persian or Senna).
Persian and Anatolian carpets
The Persian carpet is a part of Persian (Iranian) art and culture. Carpet-weaving in Persia dates back to the Bronze Age.
The earliest surviving corpus of Persian carpets come from the Safavid dynasty (1501–1736) in the 16th century. However, painted depictions prove a longer history of production. There is much variety among classical Persian carpets of the 16th and 17th century. Common motifs include scrolling vine networks, arabesques, palmettesm, cloud bands, medallions, and overlapping geometric compartments rather than animals and humans. This is because Islam, the dominant religion in that part of the world, forbids their depiction[citation needed]. Still, some show figures engaged either in the hunt or feasting scenes. The majority of these carpets are wool, but several silk examples produced in Kashan survive.
Iranian carpets are the finest in the world and their designs are copied by weavers from other countries as well. Iran is also the world's largest producer and exporter of handmade carpets, producing three quarters of the world's total output and having a share of 30% of world's export markets. Iran is also the maker of the largest handmade carpet in history, measuring 60,546 square feet.